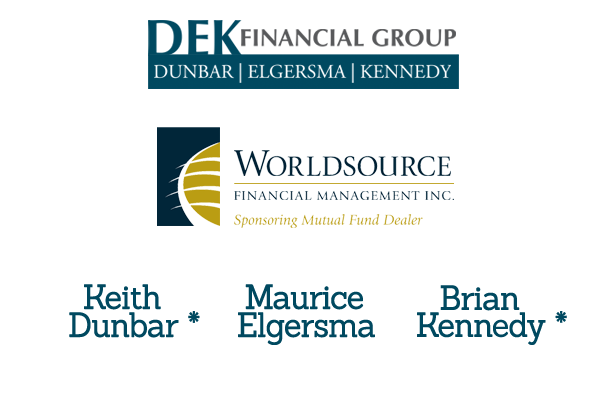 Planning Ahead During Uncertain Times
As some provinces head into a second COVID-19 lock down, some people are asking the question: Why bother investing for the long term? For many, especially Millennials, the task of building financial wealth and security looks increasingly hopeless.
Even the most prudent small business owners were caught short during the lock down in the spring and many are now facing the prospect of permanently closing their companies.
There is an old saying: "Tough times never last, tough people do". When dealing with ...
Continue...
Why You Should Choose a Financial Advisor
There are common misconceptions about the value of working with a financial advisor. Some believe you have to be rich to be worthy of financial advice. Others take a DIY approach, believing that online resources will guide their needs. Some people feel that they are too young, too old, or too much in debt to benefit from working with a financial advisor.
However, the truth is that financial advisors are not just for the rich, and they can play an essential role at any stage of your financial journey. Research supports the idea that a financial advisor can be an invaluable resource, a guide who will work with you and for you to achieve your financial goals.
For most people, the resolve for a healthier financial future isn't...
Planning to Protect Your Legacy
Your estate is everything you own today - your home, savings, investments, life insurance and personal possessions. So, no matter where you may be on your financial journey, you have an estate that needs protecting. But how you approach this plan is important.
Julie decided to save money by purchasing a "legal will kit" online. However, when she opened the kit, she learned that while it didn't break any laws, there was no guarantee that it would be considered valid. In the end, Julia turned to a lawyer to draw up a valid will to feel confident that her estate would pass to her heirs with as little hassle as possible.
As part of their estate planning, Peter and Mary chose joint bank accounts, term...
Don't let the fear of losing be greater than the excitement of winning.
Robert Kiyosaki
*Brian Kennedy and Keith Dunbar are not registered in any capacity with Worldsource Financial Management Inc. (WFM). WFM is responsible for mutual fund-related business activities conducted by its Registrants, and is not responsible for the business activities of other related or unrelated individuals and/or organizations. Commissions, trailing commissions, management fees and expenses all may be associated with mutual fund investments. Please read the fund facts and prospectus before investing. Mutual funds are not guaranteed or covered by the Canada Deposit Insurance Corporation (CDIC). For funds other than money market funds, unit values change frequently. For money market funds ,there can be no assurances that the fund will be able to maintain its net asset value per security at a constant amount or that the full amount of your investment in the fund will be returned to you. Past performance may not be repeated. The information in this email newsletter is general information only and is the opinion of the owners and writers. It is not intended to provide specific personalized advice including, without limitation, investment, financial, legal, accounting or tax advice. The information contained here may include estimates, projections and other "forward-looking statements." Actual events may differ substantially from those presented herein. We make no representation that future investment performance will conform to past performance and it should never be assumed that past performance foretells future performance. All information provided is believed to be accurate and reliable, however, we cannot guarantee its accuracy. Please consult an appropriate professional regarding your particular circumstances. Worldsource Financial Management Inc. will not be held liable for any inaccuracies in the information presented. Mutual Funds and Segregated Funds provided by the Fund Companies are offered through Worldsource Financial Management Inc. Additional products and services are provided by Dek Financial Group.