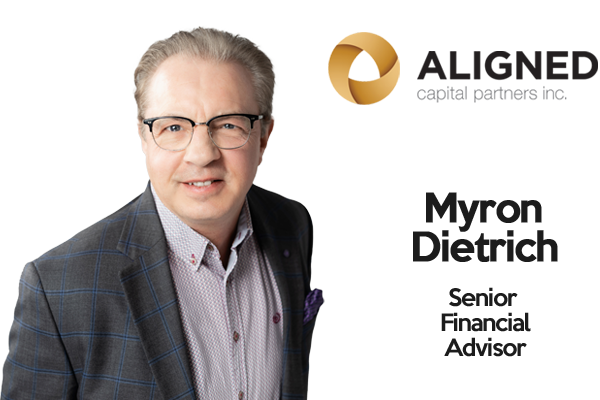 As you know, I am continually trying to add more value to the services I provide as a Financial Advisor.
To this end, I would like to introduce you to my new e-Newsletter. My hope is that each issue will contain topics of interest to you.
In addition, the links at the bottom will give you quick access to other areas of ongoing interest.
If you have any thoughts about my e-newsletter, just reply to this email to contact our office.
Myron Dietrich, CPCA
Your Financial Dream Killer
Despite what many people think, the number one financial dream killer isn't portfolio losses, or financial emergencies, or unemployment, and not even natural disasters. The number one reason people fail to reach their financial goals is procrastination - putting off the inevitable until the cost of your dreams or goals become prohibitively expensive.
Why People Procrastinate
Fear of failure: Some people view their aspirations with dread because they don't think they will succeed. Others are just afraid to try.
Failure to turn dreams into realistic goals: Everyone has a dream, but they tend to...
Buying and Selling the Business when an Owner Dies
Like many business owners, Rick and Warren thought it would be a simple process to continue the business when one of them died.
Nothing could be further from the truth.
Rick and Warren had a printing company and were equal partners. Warren died suddenly. Warren's shares passed to his widow, Sarah, who became Rick's new partner. She expected a regular paycheque to continue, even though she knew nothing about the...
We must vote for hope, vote for life, vote for a brighter future for all of our loved ones.
Ed Markey
Aligned Capital Partners Inc. (ACPI) is regulated by the Investment Industry Regulatory Organization of Canada (www.iiroc.ca) and member of the Canadian Investor Protection Fund (www.cipf.ca). The information contained in this publication has been compiled from sources believed to be reliable, but no representation or warranty, express or implied, is made by Aligned Capital Partners Inc., its affiliates or any other person as to its accuracy, completeness or correctness. All opinions expressed in this communication are those of the author, as of the date of this publication, and subject to change without notice. Opinions expressed in this publication should not be viewed as legal, accounting or tax advice or individually tailored investment advice. This material is prepared for general circulation to clients and has been prepared without regard to the individual financial circumstances and objectives of persons who receive it. Products or services referenced may not be suitable for you and it is recommended that you consult your advisor if you are in doubt about the suitability of such investments or services. This is not an offer to sell or a solicitation of an offer to buy any securities. Investment products are provided through ACPI and include, but are not limited to, mutual funds, stocks, and bonds. All non-securities related business conducted by Myron Dietrich is not in his capacity as an agent of ACPI. Non-securities related business includes, without limitation, fee-based financial planning services; estate and tax planning; tax return preparation services; advising in or selling any type of insurance product; any type of mortgage service. Accordingly, ACPI is not providing and does not supervise any of the above noted activities and you should not rely on ACPI for any review of any non-securities services provided by Myron Dietrich. Past performance is not indicative of future performance and future returns are not guaranteed. No matter contained in this document may be reproduced or copied by any means without the prior consent of the author or ACPI.